Our Team
Atlanta Classic Cars is an award-winning Mercedes-Benz dealership, serving the Atlanta metro area since 1975. Awards include being ranked in the 2019 ATLANTA BUSINESS CHRONICLE "Best Places to Work", the prestigious Consumers' Choice Award for eight consecutive years, GWINNETT MAGAZINE "Best Place To Buy A Car" and "Best Auto Mechanic" awards. While awards are nice, it is the context that is most important. Awards and recognition are only possible because of the exceptional people who make up our team and their relentless drive to create amazing customer experiences and, in turn, a unique and rewarding culture.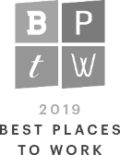 Atlanta Classic Cars is family-owned and operated, providing a nurturing, supportive, family-like atmosphere for three generations. In a recent survey, employees expressed a genuine appreciation for their workplace, the culture of teamwork and the values and leadership that come from the top and spread through the entire company. That creates a positive energy for the whole team which helps make customers happier. It's a true win-win!
If you would like to join our team, please take a look at our Open Positions on the CAREERS page and apply today.

Doug Strong, Mercedes-Benz Master Technician 1999. "The culture at Atlanta Classic Cars is like none other. I've been working at ACC for two decades and still enjoy coming to work each and every day. It's a family-oriented operation across the board and translates into a very positive and inviting customer experience."

Elaina Rainz, Service Consultant 2016 "The dealership has a different outlook on things. As a woman, I feel empowered to work here and believe that there isn't the typical political 'hierarchy' of staff that you find in other dealerships. We all care for each other, and that transcends even from upper management and even the ownership."