Who We Are
BMW Toronto is quite simply, a great place to work. We try not to throw around buzz words like cutting edge, innovative, and fast-paced. The reality is our staff love what we do, we love where we work, and we try and have fun doing it. As a place to work, we think our dealership is as good as it gets.

BMW Toronto was opened in 2002 after it moved from its former location on Adelaide St. and changed its ownership and name from Downtown BMW. In 2008 the Quinn family bought BMW Toronto from BMW Canada and it once again became a family run dealership. BMW Toronto is a proud member of The Quinn Group of fine motor vehicle dealerships, and follows the philosophy of "Service Beyond Your Expectations" on every account. The Quinn Group of fine motor vehicle dealerships is owned and operated by brothers Reg and Steve Quinn. Their knowledge and experience in the automotive industry spans across several decades, and their reputation for providing a business built on honesty and integrity is unmatched.

At BMW Toronto we offer in house training as well as opportunities through the BMW University and local apprenticeship programs. All customer facing staff attend varying levels of training through BMW Canada with regards to the brand and customer service skills. As your career progresses, training levels can be achieved through the BMW University both for technical and non-technical job skills (service and parts vs. sales). For aspiring technicians, BMW Toronto sponsors employees interested in apprenticeship programs through local colleges. Candidates are selected based on work ethic, customer service aptitude, and technical skills as judged by our management team. If selected, a 5 year apprenticeship is undertaken with equal time in college class and working in the dealership. After completion of the program apprentices can challenge the Ontario testing required to become a licensed technician. Senior Management also have the opportunity to attend advanced specialized 20 Group performance meetings, where they will interact with managers from other dealership across Canada and compare best practices, as well as real financial statement data to judge performance and areas for improvement.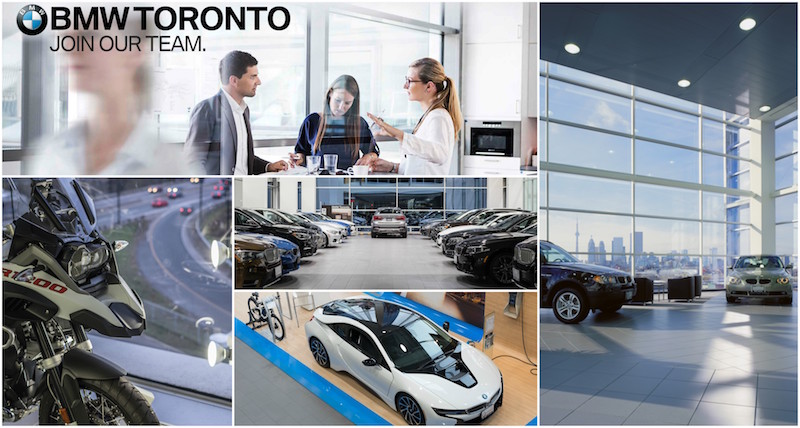 A Unique Dealership
The automotive retail business is not for the faint of heart. We provide customer service every hour of every day, to a clientele of one of the best automotive manufactures in the world. We are unique in the fact that we service the downtown Toronto core, as well as its surrounding neighbourhoods. We run shuttles all of the core, and service commuters and locals alike.

BMW Toronto is located at the foot of the Don Valley Parkway and the Gardiner Expressway in Downtown Toronto. Operating at this location for 13 years, and previously at the former Adelaide St. East location as Downtown BMW for year before that. BMW Toronto is a family run business with over 150 employees. We are the premier automotive retail facility servicing the Toronto core, running 4 shuttles all day to Toronto's financial district. We are a company built on people and we are constantly looking to grow and change in the ever evolving automotive retail space. BMW Toronto is a retailer of BMW, BMWi Electric Vehicles, BMW M Motorsport Vehicles, and BMW Motorrad Motorcycles.

BMW Toronto is one of the most unique dealership in the country, if not the world. 6 stories of glass, housing all the BMW brand from BMW M to BMW i. It has a Motorrad franchise, and a neighbouring MINI franchise as well. We are over 170 employees each of whom play an important role in getting our clients on the road in the BMW product of their choosing. If you are looking for a career change, a career move, or just getting starting in the workforce, please read on and see if BMW Toronto is for you. We accept applicants from all walks of life, with and without experience in the automotive industry. If you have any questions for us about working for BMW Toronto, please don't hesitate to ask!