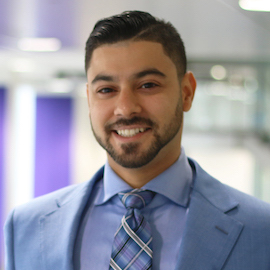 Mike Kucyi
F+I Manager
Mike started with BMW Toronto in 2010 when he applied for a job as a Business Development Coordinator shortly after completing a 3 Year Business Administration Diploma at Seneca College. His first role was at front desk reception where his tasks included greeting customers, answering the phones, consolidating the daily point of sale credit and debit sales and stepping in to help wherever needed in the Sales and Service Departments. After a few months at the front desk he moved to the 6th Floor Call Center where he answered inbound calls and made outbound calls as well to generate business for the Service Department. As a high achiever in booking appointments, customer service, and sales he was soon promoted to the position of Delivery Specialist/Product Genius. This is the next step in the sales stream of automotive retail.
The Product Genius role is one where the employee studies and masters all technology and features of our new car line up. Over 84 model variants and trim levels make BMW a complex brand to master, but this position allows people to gain a solid understanding of the vehicles for a future role in sales, whether new or used cars. Mike excelled in the role, working alongside 2-3 colleagues, and mentoring under senior sales advisors in the dealership. He took the best from the top sales professionals and incorporated it into his delivery process with customers. Each delivery takes 1-2 hours and involves a detailed explanation of features of the vehicle and a review of lease and finance paperwork. Mike was excellent at navigating potential confusion regarding paperwork and delivery surprises that can arise in an operation as large as BMW Toronto. He also passed his OMVIC licensing exam at this time allowing him to sell warranty and protection products to customers on delivery along with accessories from our parts department. In 2011 he was a national finalist amongst all BMW Retailers in Canada on who provides the best vehicle delivery experience.
His success in this intermediate role got him the opportunity to move to the New Car Sales department in a full-time sales role. Here, he managed his own day with new sales opportunities via phone, web submission, or walk-in. He also had to advertise himself to friends and family in hopes of gaining more prospects. Mike delivered a high level of customer satisfaction through strong follow up, transparency and meticulous attention to detail. Over the period of 3-4 years, Mike built a portfolio of clients who referred him business and bought multiple vehicles. To this day he still sells the occasional car to an old client who refuses to buy from anyone else. He ended up selling over 100 cars per year on average.
Because Mike was so strong with paperwork, sales, and customer service when he applied for the role of Finance and Insurance Manager in 2014 he got the job. This role is exceptionally crucial to the cash flow of the dealership and customer satisfaction. Here Mike was responsible for about 35-50 customers monthly, preparing financing, leasing terms, as well as selling warranties and protection products. The Finance Manager is responsible for collection of credit applications and private/confidential customer information while ensuring it is transmitted securely and approved in a timely manner.
After several successful years in this role, Mike was promoted again to Sales Manager at our MINI Toronto location. He managed a staff of 15 people and was responsible for the new and used car department goals along with one other colleague. This role involves a large amount of data management, forecasting, developing and executing sales plans all while continuing to provide top notch customer service. He found a niche in pre-owned sales management and played an important role in increasing the volume and profitability of the used car department at MINI Toronto.
Coming up on his 11th year with BMW Toronto Mike is now the Pre-Owned Sales Manager at BMW Toronto where he manages over $3 Million Dollars in inventory and works very closely with the New Car Managers, Service Manager, Parts Manager and General Manager to ensure a profitable operation for not only his department but others as well. Hard Work, High Levels of Customer Satisfaction and Genuine Enthusiasm are what got him to where he is.