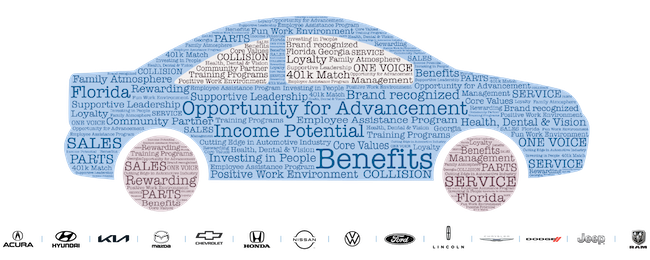 Building a Legacy
Jenkins Automotive group was founded by Don Jenkins in 1998. Jenkins has over 1,200 employees representing 14 different automotive brands, offering new and pre-owned vehicles, financing, warranties, automobile parts, accessories, service and body repair. We are an industry-leading automotive retailer committed to providing our customers with an outstanding automotive experience that is delivered with professionalism, integrity, and enthusiasm. We are a company that believes in promoting and fostering growth and upholding our forward trajectory through great people, high standards and best practices.
Our mission is to excel through our lifetime commitment to customers, cars and our community.
We offer paid training, competitive pay & benefits and a culture that believes in investing in our workforce and their professional future. With over seventeen locations and three collision centers, Jenkins has an opportunity for you!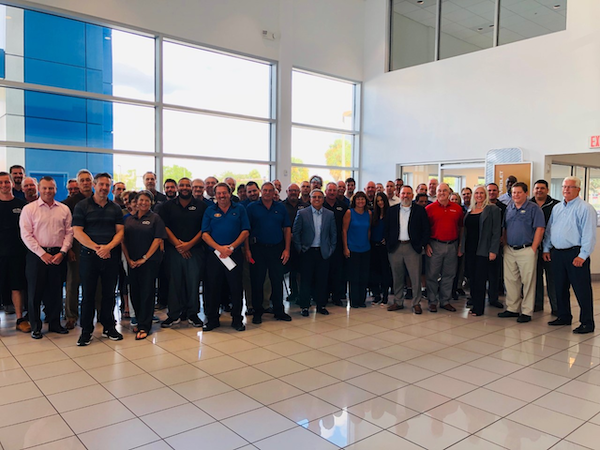 Inspire
Inspiring our Employees and Investing in their Future.
Jenkins Auto Group is not only passionate about serving our customers, but our employees as well. Our organization is constantly working to provide our employees with the right tools to help them grow and advance. We are all on the same team at our company, and we want our employees to grow with us.
We are committed to providing competitive compensation and an array of benefits. At Jenkins Auto Group, we believe every employee has what it takes to flourish and succeed. We want you to Drive Your Career Forward with us.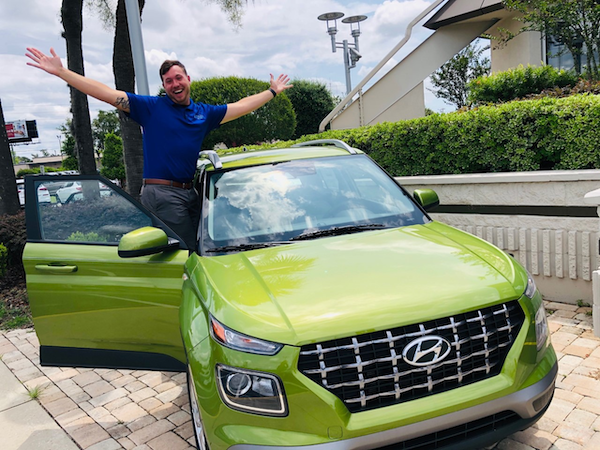 Deliver
Delivering Outstanding Customer Experience. Every Day.
At Jenkins Auto Group, we hold ourselves to a higher standard. No matter what department you work in, every employee's mission is to exceed our customer's expectation. Whether you are a salesperson, finance consultant, or an accounting clerk, we aim to deliver a premium automotive experience for our customers.
Our work culture is also built on our Jenkins Auto Group values. We achieve each one of these values with the help of our employees, the backbone of our company.

Join The Jenkins Family!
Learning, Development and Career Pathing...



Career path growth (we believe in promoting from within)




NADA executive development program




Educational reimbursement program for technicians




On-site training and online digital training programs available




Paid training for most positions




Jenkins experience training




Mid-management/leadership development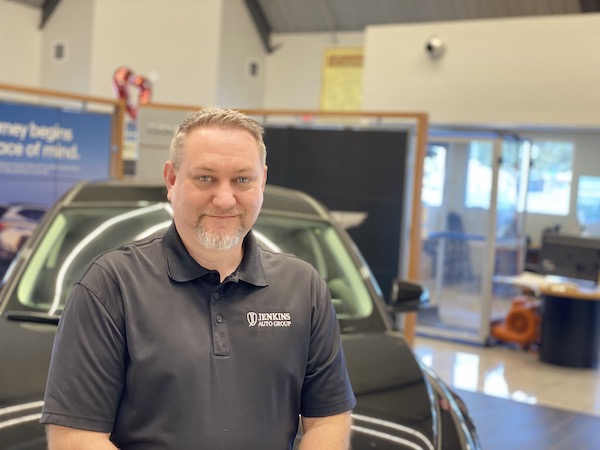 Employee Spotlight
"I have worked for the Jenkins auto group for 21 years. I started as a lot porter in 2000, moved to sales shortly after, then found my way to service. I have enjoyed watching this company grow beyond anyone's expectations and have always admired the ability to keep a feel of family within the dealer group. I have seen hard work recognized and rewarded, which empowers our employees to strive to go above and beyond for the customers as well as the company. It truly is a rewarding experience to work for Jenkins!"
Aaron
Service Manager for Hyundai of Ocala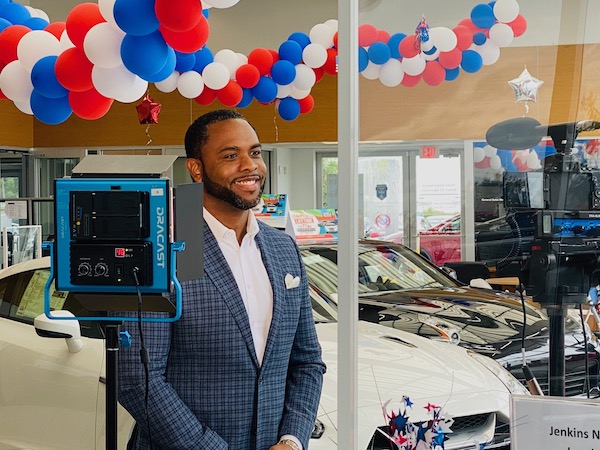 Employee Spotlight
My name is Anthony Guillaume and I am the Executive Manager of Jenkins Nissan of Leesburg. I started in the automotive industry 22 years ago at a Nissan dealership in Orlando, Florida. My love of cars, especially Nissans, led me to an exciting and fulfilling career for over two decades. Before I ever stepped foot into a car dealership for employment, I owned four Nissan Maximas, Nissan's flagship vehicle, so my love for the brand was already cemented before I heard the words "you're hired!" I worked my way up from selling vehicles to the General Manager and was at that dealership for 17 years. I left the brand for 2 years exploring other opportunities, but I found my way back to the brand in April of 2019 when I joined the Nissan store in Leesburg with the Jenkins Auto Group! I picked up right where I left off, got caught up on the brand that I loved and the programs, and my team and I were able to make Jenkins Nissan in Leesburg the #1 store in Lake County.
My journey thus far with Jenkins has been amazing! Jenkins has given me the autonomy to use my experience how I see fit to better my staff, the business, and ultimately our customers. Jenkins takes a customer centric culture and gives it a new meaning. If it makes the customer happy, and it makes sense, we do whatever it takes to give the customer an exceptional experience…sales and service. Doing the right things doesn't always make business sense. So when you're able to make decisions that may not always benefit the bottom line, without any repercussions, you know you're part of a really good thing! Jenkins not only encourages their people to make good decisions that benefit the customer, we demand it!
I enjoy being part of a team of professionals that makes coming to work effortless and fun. I enjoy leading a team of individuals that just want to make a good living and also get to serve their community at the same time. And what's more fun than cars? Don't get me wrong, there are challenges in every organization. But when challenges are presented here, they are quickly addressed, and we do our very best to learn and improve moving forward. No one makes you feel "less than" for asking a question you don't know the answer to. Our support team in our corporate offices are always a quick text/call away, and if need be, they're at one of the dealerships lending a hand pretty quick.
I would tell someone who was considering working for this Group to "jump quick" if the opportunity presented itself! Coming to Jenkins has by far been the best decision I have made in my automotive career. What I didn't know in this stage of my career, I learned it here…and it hasn't stopped. The continual education that is provided is truly amazing. We even conduct a Supervisor's Training every other month facilitated by the President of the company and the Human Resource Director (two very busy individuals) to keep the leadership in the company up to date on the on goings of our industry and most importantly, how to keep our people engaged and happy to work here. We truly believe that happy employees equal happy customers. The advancement opportunities are endless, the benefits are second to none, we over train, we over communicate, and this truly the better place to work!
Anthony
Executive Manager of Jenkins Nissan of Leesburg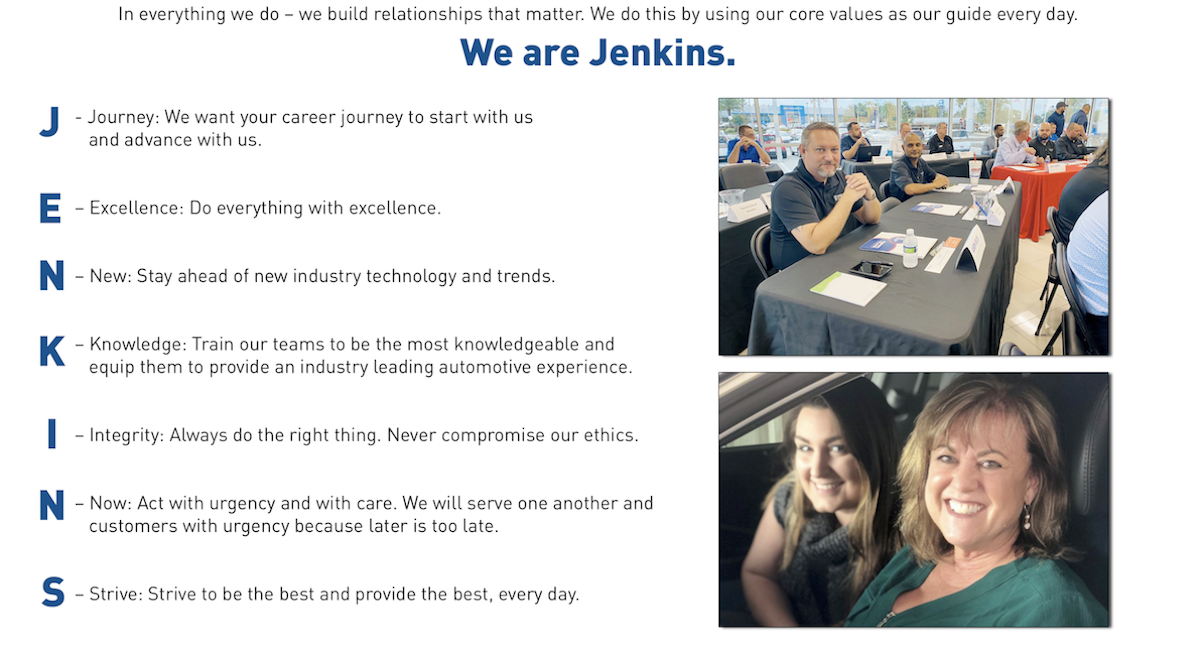 Jenkins by the Numbers
Take a look at how we stack up!
Current Openings
Ready to start your career?
Apply Today and Drive your Career Forward with Jenkins Auto Group!
Jenkins Auto Group is an equal opportunity employer, and all qualified applicants will receive consideration for employment without regard to race, color, religion, sexual orientation, gender, gender identity, age, marital status, national origin, protected veteran status, disability status or any other category protected by law. Compensation and benefit rewards in job ads may vary by employment site and are subject to change at any time.