Employee Spotlight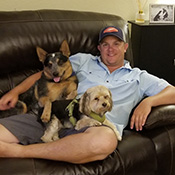 "Working for McDonald Automotive is not a job; it is an opportunity that can evolve into a career. What you put in is what you get out. I tell everyone I work and worked with to have an open mind and look around for their opportunity. You may not know today what you are looking for, but your opportunity exists. At McDonald Automotive the opportunity is limitless, do not be afraid to grow as one day you may be washing cars and the next day you are selling or servicing cars.
Hard work and dedication have allowed me to grow within the company. My career began in 2005 when presented with the opportunity to work at McDonald Automotive. Since 2005, I have worn many hats while maintaining a vision to grow from Service Porter to Service Manager. McDonald Automotive provided me with the tools, structure, and opportunity to live my vision and become Service Manager. My vision continues to evolve, and with confidence, McDonald Automotive will continue to be as loyal to me as I am to them.
Every day I show up to work, I am proud of the success the organization has granted me with , and am proud to be an employee for a progressive, successful, and loyal family organization. At McDonald Automotive, "Doing Right Comes Natural!""
Keith Florian