Customer Success Stories
We focus on promoting from within and developing our team to give them a future here at Courtesy Acura.

Connor Thomas, Parts and Service Director
Connor began his career at Courtesy Acura 7 years ago as a Lot Porter. He is an incredible employee and has moved up within the Service department. Because of his hard work and dedication, Connor was recently promoted to the Parts and Service Director. We're so proud of him and his success story; he's really shown the importance of hard work during his time here. Connor has a bright future and we're excited for him to continue his growth at Courtesy Acura.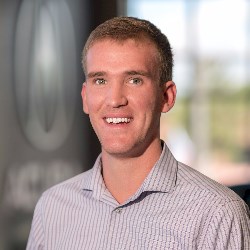 Jeremiah Watson, General Sales Manager
Jeremiah started here in 2012 as a Sales Consultant. He has a strong work ethic and because of it, he was promoted to a finance position and then into a Sales Manager position. Jeremiah focuses on the development of the team and taking care of our guests. His hard work led to his promotion to General Sales Manager a couple of years ago. We're happy to have him as part of the Courtesy Acura team, and look forward to seeing him succeed at the dealership.