The vision of Fox Motors is working together moving people throughout life. Our primary focus as a Fox Family is finding ways to give back to our employees, community and customers as a team.

---

PRODUCT SPECIALIST TRAINING
As you start your sales career path with the Fox Family, you will be enrolled in to our 8-week course.
You will have a coach / manager to begin the process which covers the following: Sales Success 101 (Purchase vs Lease, Negotiations, Customer Service, Time Management), Systems & Product Training, Communication Skills Phone Call Training, and S.M.A.R.T. Goal Setting.

TECHNICIAN TRAINING & MENTOR PROGRAM
As you start your Technician career path with the Fox Family, you will be paired with a trainer/mentor to develop skills to become a fully certified technician.
Fox Motors covers both the training and costs for earning your state certifications. Upon receiving your state certifications, you will begin the manufacturer training and certification process. Fox Motors covers the cost of ongoing manufacturer training, including travel expenses.
DEPARTMENT MANAGER MENTOR PROGRAM
Our program is designed to further develop our employees who would like to advance into a management position.
This program teaches the employee the technical skills required to run a successful department with mentoring from a seasoned manager. In addition to acquiring technical skills, Fox has partnered with Davenport University to develop the employee's leadership skills so they are in a position to successfully lead a team.
GENERAL MANAGER MENTOR PROGRAM
This program is designed to teach qualified Fox managers, who exemplify the company's values, culture and processes, the nuts and bolts of dealership operations.
This includes mentoring from a current General Manager and Division Director. In addition to learning the day to day operations of running a dealership, they will also learn high level leadership skills from an instructor at Davenport University. The graduates are then in a position to successfully lead a dealership operations team.
Recognition Progams
We have developed the following recognition programs for our Fox Family.


PEAK PERFORMERS PROGRAM
Our "PEAK Performers" program recognizes our top performers in the following areas: F&I, Sales and Service. All top performers are invited to an awards ceremony to receive recognition for remarkable performance for the year.



C.A.R.E. PROGRAM
Our "Creating A Remarkable Experience" program is designed to recognize employees each month that have gone the extra mile with our customers or team members.

FOX FILES NEWSLETTER
Fox Files is our internal monthly newsletter that recognizes top performers in Sales, Service (Advisor & Technicians), F&I, Collision Center and Parts & Accessories. In addition to recognizing top performers we also feature a "Purple Fox" comment where we highlight a store, team member or group that have gone above and beyond what is expected and provided a remarkable experience for our customers or team. At this time we also welcome all new hires and highlight employment anniversaries.
---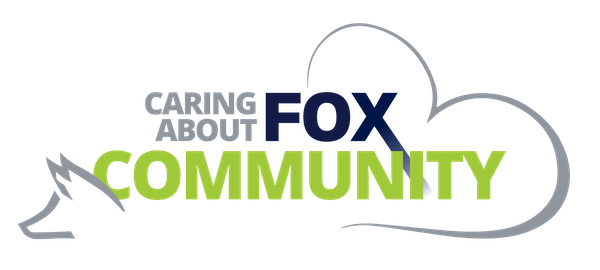 Fox Cares
In support of our community, Fox is proud to partner with the following organizations and more.
CHICAGO, IL
- Lurie's Children Hospital


GRAND RAPIDS, MI
- Kids Food Basket
- Grand Rapids Symphony
- Humane Society of West Michigan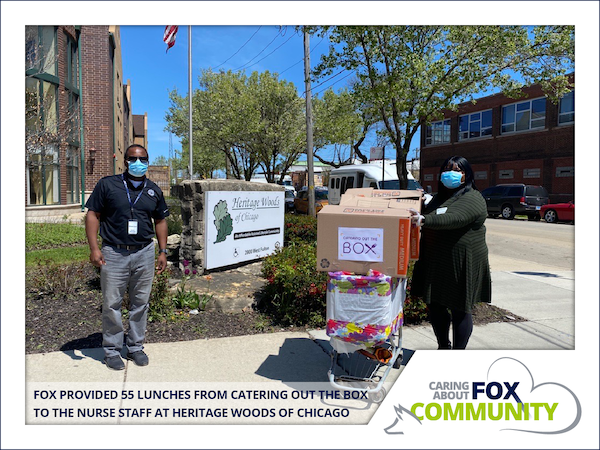 CADILLAC, MI
- United Way
- Fox For Tots

TRAVERSE CITY, MI
- Fox For Tots
- Patriot Game
- Father Fred Fdn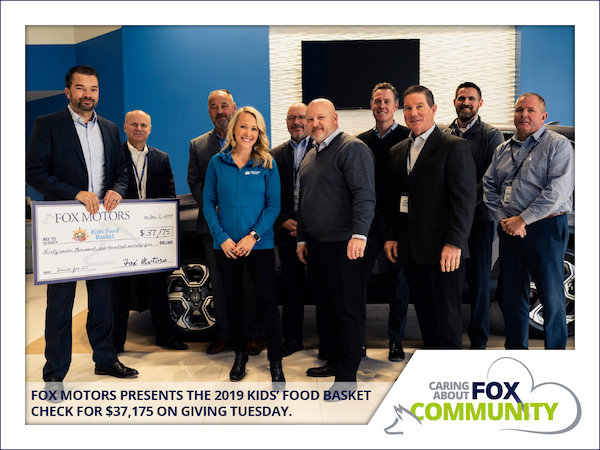 MARQUETTE & NEGAUNEE, MI
- UPAWS
- Northern MI University
- Pioneer Days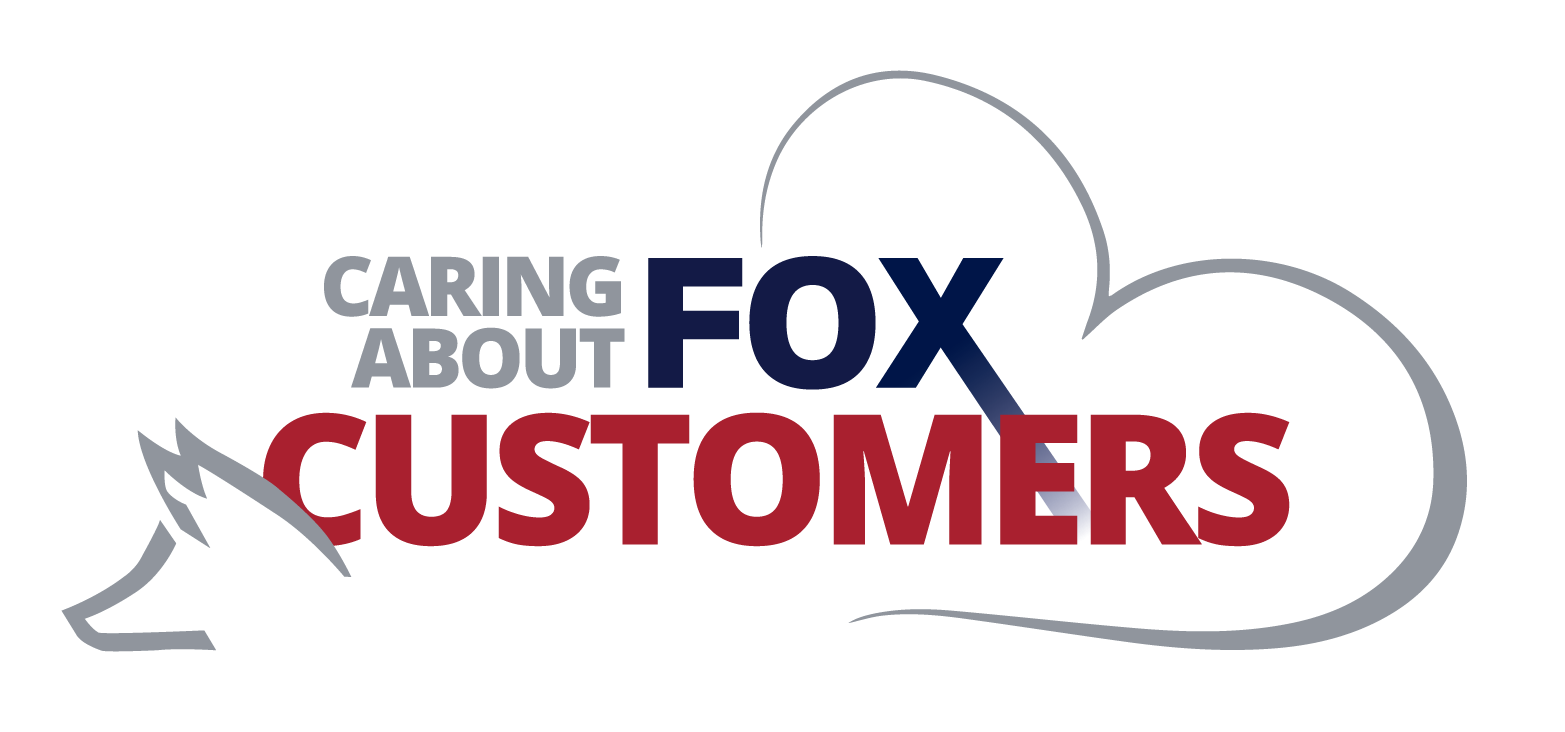 In Support of our customers, Fox has the following programs and events: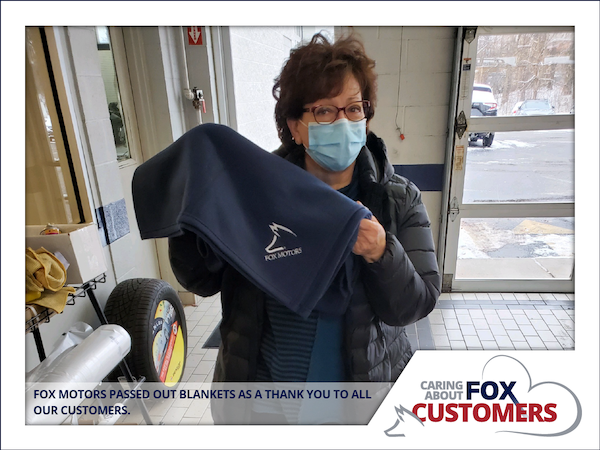 CUSTOMER APPRECIATION DAYS
- Nurses (May)
- Teachers (August)
- First Responders (October)
- Veterans (November)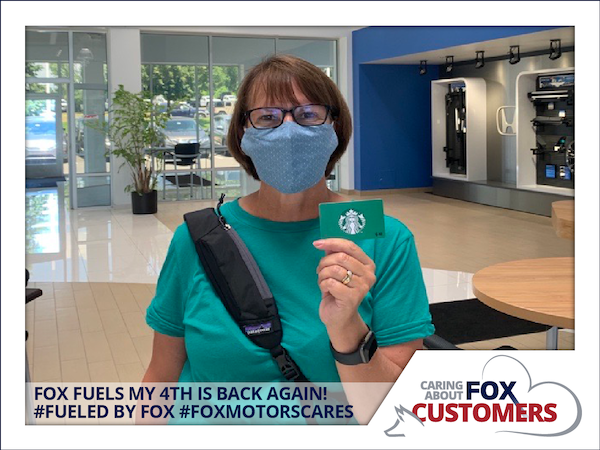 FLASH EVENTS
- Fox Fuels My Fourth (July)
- Watch our social media to see what pops up next!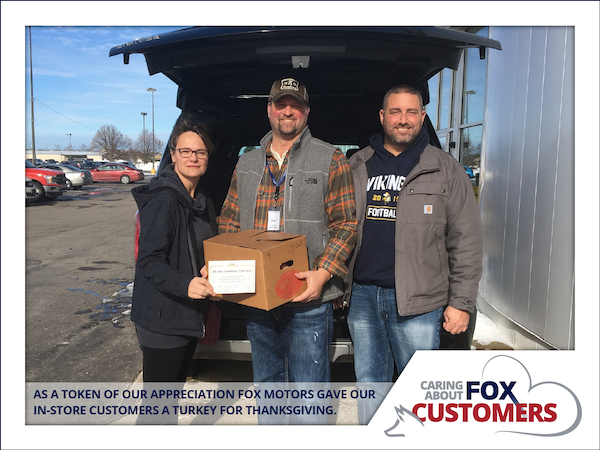 FOX BENEFITS
- Over 6,000 in-stock vehicles to choose from
- 1st Oil Change Free with purchase
- Owner Loyalty Program